Make a facelift, Mumbai Bank funds you!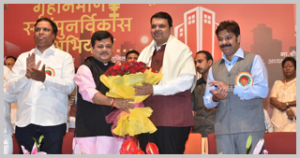 Mumbai & suburban area have thousands of Co-operative Housing Societies & Apartments, which are not in good condition, in terms of structural audit. In fact, many housing apartments are in such deteriorated condition that they immediately need a     re-construction. Old Housing buildings are in dilapidated state & have shabby looks, as well. Besides, these Housing societies find extremely difficult to carry out repairs or face lift, due to the paucity of funds. Because of old age of the buildings, the life of people residing in it, is also at a stake ! Such collateral damage situation is being nicely solved by leading Co-operative Bank in Mumbai, i.e. Mumbai Dist. Central Co-op. Bank Ltd., which is popularly known as Mumbai Bank in the vicinity.
Use of extra FSI :-
Mumbai Bank has perfectly realised the requirements of Co-op. Housing Societies & apartments that they need funds & assistance for carrying out any type of major repairs. In fact, carrying out major/minor repairs to old buildings is a temporary solace, as the life of most the buildings in Mumbai have crossed over 25 years. Hence, it really needs a demolition of the old building which is in endangered condition and to re-construct a new, tall, attractive building with all resident required amenities, by using its extra FSI available.
Mumbai Bank has come out with unique idea of funding directly to the Housing Society / Apartment to carry out such major repairs by avoiding middle men developers. Repairs involves a huge capital expenditure which perhaps is beyond the capacity of such Housing Societies to undertake. Mumbai Bank is here to assist in such a situation with its excellent & expeditious service !
Three fold objective of Bank :
Mumbai Bank has 3 fold objective to assist the Housing Societies in such an environment viz,
Demolish the entire old structure & construct a new building by utilising available FSI & availing finance from Mumbai Bank; or

Construct a new building on the extra vacant land available with the society adjacent to the present structure by utilising extra FSI & availing finance from the Bank; or

Make a Face Lift of the present building, if has good survival life, in terms of structural audit, by utilising extra FSI & availing finance from the Bank.
Safety First :
Above 3 fold objectives will not only assist the Housing Societies / Apartments to turn around their present shabby, dilapidated structure into beautiful, modern looking building but also would give the resident an assurance of residing in better Housing Complex with well equipped amenities without any danger to the life, as was in the past! So, its the safety first motive.
Omitting Middlemen :
Best part of the scheme of Mumbai Bank is that the funds will be directly lent to Co-op. Housing Societies and not to the middlemen like Realty Developers or Builders. This will surely bring down the capital expenditure budget of societies, as they themselves can monitor, appoint an Architect / contractors & manage the work by cost cutting. The society will be the direct borrower of bank & be given period of 7 years to repay it back.
Therefore, the scheme is titled as "Self Redevelopment" of building construction. Mumbai Bank has more than 9000 Co-op. Housing societies, as their members, who can avail this "Self Redevelopment" loan facility. If a society is not a member, there is no issue since it can simply apply & become a member to avail the Self Redevelopment loan for such important cause.
Simple Procedure & Easy accessible :
Mumbai Bank has its Head Office at D. N. Road, Fort & 53 branches located almost in all suburbs of Mumbai which can be easily accessible by the Co-op. Housing Societies for the said purpose. The procedure for applying loan under this "Self Redevelopment" scheme is also simplified. The society representative / office bearer will get due guidance, once they visit the nearest branch for availing the loan facility. Maximum limit of the loan is 85% of the project cost or Rs.50/- crores, whichever is lower. Even for 15% margin contribution, tie-up loan can be arranged from NBFCs, routing through us. Our strength is giving Best services to the clients.
Mumbai Bank is thus attributing to the social cause of society at large, by implementing this Self Redevelopment loan scheme for Housing Societies.